Pop-up Banner Printing
Specs:
Full colour
Single sided
Size: 850mm x 2000mm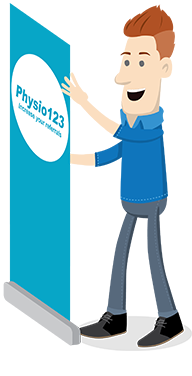 Promoting your practice at a trade show or other exhibition requires appropriate signage. You can continue using old-style banners that are complicated to set up and clumsy to move around, but another option is a pop-up banner from Physio123. The pop-up banner is the newest and most effective way of promoting your practice with a banner that can be setup and taken down in less than 1 minute!.
Prices
Design
Quantity
1
5
Pop-up Banner

£80
£80
£350
Price includes
free postage
to any UK address.
Ready to get started?
If you have any questions about getting your pop-up banner designed and printed, simply email
printing@physio123.co.uk
or call
0203 397 7850
.
What are pop-up banners?
The Physio123 team takes great pride in creating outstanding pop-up banners that make a strong first impression. That's what the pop-up banner is all about. You want those who know nothing about you to be impressed the minute they see your name and logo. Do not allow your practice to be forgotten; let's start work on your pop-up banner today.
Why pop-up banners for therapists
The field of therapy is both wide open and competitive at the same time. So when you or a team member goes to a trade show or exhibition, there are going to be lots of others attending that same event. Your practice needs to stand out.
The pop-up banner is your opportunity to distinguish yourself. At the same time, you do not want banners that are difficult and clumsy to use. You want to be able to walk in, get set up, and start greeting visitors right away.
An effectively designed pop-up banner says something about you and your practice that is hard to quantify by words alone. That's why graphic design is so important in the banner-advertising arena. It is also why you need an experienced design team, like our team at Physio123, to create something that will be highly effective.
Pop-up banner design
We have gained a lot of experience working with therapists the world over for a combined 20 years. The opportunities we have had have allowed us to be part of some of the most successful clinics and brands ever. We want to use that experience to create something great for your practice
Pop-up banner options
Pop-up banners come in two sizes depending on your specific needs. We can also use custom-designed artwork or artwork you have already created. Our design team will work closely with your office to produce a banner that exceeds your expectations.
We create our pop-up banners in the following two sizes:
Standard (850 mm x 2000 mm)
Our standard banner is ideal for the practice that only does an occasional trade show or exhibition here or there. It is also good for public spaces within your building, where you are afforded the opportunity to use a banner sign.
Wide (2m x 2m)
Our larger banner is great for those major trade shows and exhibitions you are planning to attend, for years into the future. It is wide enough to accommodate eye-catching graphics and large print text in a single package. This is a banner that will be seen at quite an impressive distance.
Ready to get started?
If you have any questions about getting your pop-up banner designed and printed, simply email
printing@physio123.co.uk
or call
0203 397 7850
.
Looking for something else?

Business cards
Find out more »

Leaflets
Find out more »

Posters
Find out more »

Flyers
Find out more »

Letterheaded paper
Find out more »

Compliment slips
Find out more »

Desk pads
Find out more »

Media pack
Find out more »

Brochure
Find out more »

PVC banner
Find out more »

Pop-up banner
Find out more »

Swing board sign
Find out more »